The 5 Most Important Reasons to Practice Tai Chi
By Mariscela Alvarez, Free Your Spirit
It has been said and written that Tai Chi is a "way of life".  Tai Chi is an ancient Chinese tradition that when practiced regularly, improves the quality of your life, restoring the natural flow of your life force, or internal energy or "chi"
When your chi is blocked, it could be manifested as physical illness, mental stress, emotional trauma or spiritual disconnection.
Cultivating your chi will allow it to flow evenly and harmoniously throughout your body, which is vital to the success of a healthy, balanced and joyful life.
There are more than enough reasons to practice Tai Chi.  As a student and a teacher of this powerful "moving meditation" I am listing 5 main reasons to incorporate Tai Chi in your life:
Gentle Exercise Alternative. Tai Chi by nature is gentle and practiced is slow motion.  You gradually s

trengthen

your body and build up your life force.  If you haven't exercised in a while, or have a physical challenge (arthritis, joint pain, balance issues, back injury, etc.) or are not aging gracefully, Tai Chi will introduce your body to the

exercise

it needs.  Start now to prevent future physical issues or to improve your present condition.
Improves Your Mental Awareness.
As you practice slow movements, you become very alert and aware of your body, especially the parts you are exercising.  You also bring your attention to your breathing, an essential element to restore your chi.  During class you learn and memorize a sequence of movements that in its totality, becomes the Tai Chi form.  Your total concentration is required, therefore, your mind is stimulated and disciplined to be consciously active.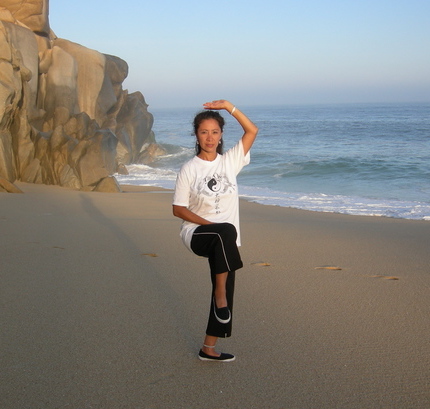 You Use Your Natural Resources.
No outside elements are required to successfully practice Tai Chi.  You use your own innate tools such as your breath, intention and imagination.  Your attention is constantly directed to your breath, a vital element to restore a balanced chi.  Your intention gives you the power to be present and active in healing any blocks of energy.  Your imagination gives form to your intention by visualizing a healthy body, calm mind, balanced emotions and your free spirit.
Helps You Recognize the Power Within.
Most of the time you're engaged in a busy life and become disconnected from the peace and quiet within.  The practice of Tai Chi allows you to reconnect with that deep place in you where you can experience an internal power.  This power is the recognition of your vital force, the core of your being or your divine essence.  As you learn to be one with your body, breath and mind, you will connect with a higher understanding of your true nature.
Anyone Can Practice Tai Chi.
You don't need to be in excellent physical condition, have a bright memory, or have any
spiritual practice.  All you need is the desire to improve the quality of your life.  Tai Chi is safe, fun and easy to learn for all ages.  The sooner you begin your practice, the faster you will experience its benefits.  As I mentioned earlier, start now to prevent future challenges in your life or to improve your present condition.  You deserve an optimum quality of life!Stay tuned to learn about the "don'ts" while you practice Tai Chi.
Are you ready to begin your Tai Chi journey?  I invite you to join me on my free presentation listed above.  I encourage any one new to Tai Chi or Chi Kung or new to my classes, to take advantage of this free opportunity.  You will get a taste of what we do in class. Learn more here. Soon you will be able to purchase my Tai Chi and Chi Kung DVDs online, to support your practice in the comfort of your home, while you continue with regular classes.  TAKE ACTION and DO SOMETHING FOR YOURSELF TODAY! © Copyright 2009, Mariscela Alvarez and Free Your Spirit WANT TO USE THIS ARTICLE IN YOUR NEWSLETTER OR WEB SITE? You have my permission to use the above article from my Free Your Spirit E-Newsletter, as long as you use it for free information only and not for profit and you include this complete blurb with it: "Mariscela Alvarez incorporates Hypnosis, Shamanic Healing and Energy Work into her Holistic Practice. She teaches Tai Chi and Chi Kung classes. She offers services and products in English and Spanish including private, phone or online sessions. To learn more about her offers, visit
www.fyspirit.com
"
Sign up for a FREE Resonance Meeting!